Study Load
20-24 hours per week
Intakes
Jan, Mar, May, Jul, Aug, Oct
Face the legal challenges of the digital age.
The legal skills needed in a borderless 

world
The Master of Digital Law is your way into a rapidly emerging legal specialisation. Set yourself up for the future with knowledge of the technology-related legal issues that are rapidly transforming our society.  
This degree is a unique opportunity for students of all industry backgrounds to upskill in a legal specialisation that is key to our dynamic digital world. As new technologies present industries with new challenges, this degree will allow you to tackle these issues with authority. 
What you will learn
Human rights in a digital age


Explore the ways global legal systems are adapting in times of digital compliance, convergence and changing privacy policies.
Cybercrime and AI


Master your understanding of the legal consequences that accompany emerging technologies like artificial intelligence.
Financial and digital market laws




Discover the pathways to justice in emerging fintech fields of blockchain, intellectual property and digital currency.
Structure

Entry Requirements

Fees
Structure
The course comprises 12 units structured in three parts: Part A Core legal study, Part B. Advanced legal knowledge, and Part C. Specialist legal applications Students who have previously studied law will not be required to complete the introductory unit 'Foundations of law in the digital world' and may enter the course in any of the six intakes. Students without a law background will complete the introductory unit and may only enter the course in March, July or October.
Need further clarification about our online course structure?
You can submit an enquiry directly to our student consultants by using the form listed on our contact us page. You'll have the opportunity to schedule a call if you'd like to receive further information.
Part B. Advanced legal knowledge
In these studies, you will develop advanced knowledge in digital law across a range of areas including criminal law, human rights law, and workplace and employment law. You must complete five of the following units, or four of the following units plus a Level 5 elective from the Monash online programs.
Technology, justice and human rights
Part C. Specialist legal applications
Entry Requirements
Entry level 1: 72 points to complete
Duration: two years part-time
An Australian bachelor's degree in a relevant discipline with at least a credit (60 per cent) average, or equivalent qualification approved by the faculty, or an Australian bachelor's degree with at least a credit (60 per cent) average, plus two years relevant work experience.
Entry level 2: 48 points to complete
Duration: 1.4 years part-time
An Australian Graduate Certificate of Digital Law, or an Australian bachelor honours degree (or equivalent as determined by the faculty) in a cognate discipline, with at least a credit (60 per cent) average.
Entry level 3: 24 points to complete
Duration: 0.7 year part-time
A Monash University Graduate Diploma of Digital Law.
English requirements
Applicants must meet the English language requirements.
University entrance requirements
Minimum entrance requirements apply for admission to Monash University Australia.
If you need help understanding the above entry requirements, reach out to our student consultants on our contact us page and schedule a booking for a chat.
Fees
For the Master of Digital Law, the estimated cost is $4912.50 per unit. You may be eligible to receive a FEE-HELP loan to cover part or all of your tuition. Fees are subject to change annually.
Scholarships
We offer over 360 types of scholarships, valued at up to $280,000. Some scholarships offer one-off payments while others continue for the length of your course. Learn more about Monash Scholarships.
Looking for clarification on fee's or scholarships?
Enquire with our student consultants and schedule a call to get your questions answered.
Digital law online at Monash
When you study the Master of Digital Law online through Monash, you'll join a faculty with a prestigious history founded in research that has a demonstrated positive influence in law reform and policy development. 
You'll study foundational law units that emphasise the impact of digital technologies and deep dive into specific technology-related aspects of the law that continue to shape our society. Graduate with skills you can immediately apply to your current role, as well as the confidence to tackle the big issues of the future.
Meet your academic team
Maria O'Sullivan
Maria O'Sullivan is an Associate Professor in the Faculty of Law and a member of the Castan Centre for Human Rights Law. Her current projects focus on automation, artificial intelligence and government decision making. She has been published in The Age, Sydney Morning Herald and The Conversation.
Rachel Kessel
Rachel Kessel is a Legal Tech and Design Fellow at the Australian Centre for Justice and Innovation. Her primary research is in human rights law, entrepreneurship and digital transformation. Rachel completed a Master of Education, specialising in human-centred design and digital technologies.
Dr Tyrone Berger
Tyrone Berger is a leading commentator on intellectual property law. He is a frequent contributor to academic journals and has presented his research internationally. He has a Bachelor of Arts, Bachelor of Commerce, Juris Doctor, Graduate Diploma of Legal Practice and PhD of Philosophy.
Master of Digital Law with Maria O'Sullivan
My OLA is an experienced IP Lawyer who has led technology and learning programs at a national law firm. Getting to hear from her firsthand experience in class has been very valuable.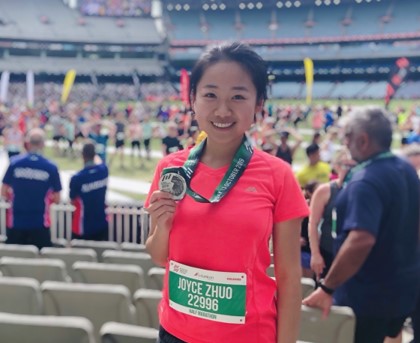 Joyce Zhuo
Master of Digital Law
Industry insights
Ready yourself for a dynamic legal career, working across the legal fields currently navigating the crossroads between technology and the legal system. Fields such as:  
cybercrime

 

intellectual property law

 

privacy law

 

immigration law.

 

Digital law specialists
are invaluable across the legal profession.

Digital law is emerging as an essential field of expertise within the broader legal profession, as the technological revolution continues gather pace.

19% projected growth for specialist lawyers in Australia over the next 5 years.
Download a course guide
Fill in your details to download an interactive course guide containing:
course information
career pathways
how online study works
course fees
how to apply
Monash Online is a partnership between Monash University and Online Education Services (OES). Learn more.