Study load
20-24 hours per week
Intakes
Jan, Mar, May, Jul, Aug, Oct
Become a leader capable of driving innovation and growth in any organisation or industry.
Driving growth through agile leadership
The need for strategic business leaders who can thrive in uncertainty has never been greater. Businesses everywhere are facing unprecedented change and industry disruption, particularly with the rise of paradigm-shifting technologies such as artificial Intelligence, big data analytics and cloud computing. Monash's fully online MBA course will empower you to actively reorient your career at a time when business environments are evolving at a rapid pace. 
Secure your career, whether in a traditional industry – such as government, finance, education or health – or in one of many high-growth, emerging fields, such as artificial intelligence, renewable and alternative energy, big data analytics or cybersecurity.
What you will learn
Contemporary business practice theory


Understand the influence of emerging trends including digitalisation, strategic data use, virtual teamwork and more.

 
Methods for lifelong learning


Learn methods to maintain currency through lifelong learning.
Strategic organisation


Develop a deep understanding of how to remain organised within the shifting realities of the business environment.

 
Structure

Entry Requirements

Fees

Accreditation
Structure
The MBA (Digital) is comprised of 12 units designed to provide the necessary knowledge for the digital era and built across three core themes: operational knowledge, organisational skills and professional skills.
Need further clarification about our online course structure?
You can submit an enquiry directly to our student consultants by using the form listed on our contact us page. You'll have the opportunity to schedule a call if you'd like to receive further information.
Operational knowledge
Operational knowledge units cover the foundational theory of contemporary business practice with an emphasis on emerging trends including digitalisation, strategic data use, virtual teamwork, design thinking, and agile project methods. This theme covers the traditional study areas of an MBA.
You must complete the following units.
Organisational skills
Organisational skills units help you develop a deep understanding of the key strategies and techniques that strategic managers require. These skills are grounded in the shifting realities of the business environment: the emergence of new organisational forms, sustainable development, and business transformation.
You must complete the following units.
Strategic management of contemporary organisations
Leadership for sustainable development
Professional skills
Professional skills are vital in order to thrive in any career – especially in business environments that are increasingly digital, dynamic and uncertain. Learn methods of maintaining currency through lifelong learning, building professional communities, and honing a career direction and purpose.
You must complete the following units.
Currency and lifelong learning
Direction, purpose and career advancement
Entry Requirements
Entry level 1: 72 points to complete
Duration: two years part-time
An Australian bachelor degree or equivalent qualification with a Weighted Average Mark (WAM) of 60, or equivalent Grade Point Average (GPA) and three years relevant experience in a professional role.
Entry level 2: 48 points to complete
Duration: 1.4 years part-time
A Monash University Graduate Certificate of Business Administration (Digital) with a Weighted Average Mark (WAM) of 60.
English requirements
Applicants must meet the English language requirements.
University entrance requirements
Minimum entrance requirements apply for admission to Monash University Australia.
If you need help understanding the above entry requirements, reach out to our student consultants on our contact us page and schedule a booking for a chat.
Fees
For the Master of Business Administration (Digital), the estimated cost is $4625.00 per unit. You may be eligible to receive a FEE-HELP loan to cover part or all of your tuition. Fees are subject to change annually.
Scholarships
We offer over 360 types of scholarships, valued at up to $280,000. Some scholarships offer one-off payments while others continue for the length of your course. Learn more about Monash Scholarships.
Looking for clarification on fee's or scholarships?
Enquire with our student consultants and schedule a call to get your questions answered.
Accreditation
Monash MBAs are backed by Triple Accreditation from the Association to Advance Collegiate Schools of Business (AACSB); EFMD Quality Improvement System (EQUIS); and the Association of MBAs (AMBA).
MBA (Digital) online at Monash
When you study the MBA (Digital) with Monash, you learn from world-leading academics. Who better to guide you through each unit and towards the next step in your career? The innovative combination of skills-based organisational units in tandem with career-focused professional skills units ensures you acquire a well-rounded skill set that prepares you to face the demands of strategic leadership. 
Dedicated units bring an explicit focus to the strategies you can use to amplify your influence at work and build diverse professional networks that lead to real career advancement. After all, navigating a career in a world where the business landscape is constantly shifting requires not only the ability to adapt to new technologies and ways of working, but also the ability to form strong professional networks and contribute as a part of a broad professional community. 
Meet your academic team
Associate Professor Jonathan Matheny
Jonathan Matheny is the Director of Program Development for Leadership and Executive Education. He leads the development of new programs and teaches personal development, leadership and organisational change. He has led academic programs and lectures across North America, Europe and Asia.
Professor Richard Hall
Richard Hall is the Deputy Dean of Leadership and Executive Education. His research is in management and organisational studies, including leadership, technology and organisational change and the future of work. He is the Co-editor of Leadership Development and Practice, and his research has been published internationally.
MBA (Digital) at Monash online
There is constant collaboration and support between the academic staff and the students. My online studies have been challenging but enjoyable.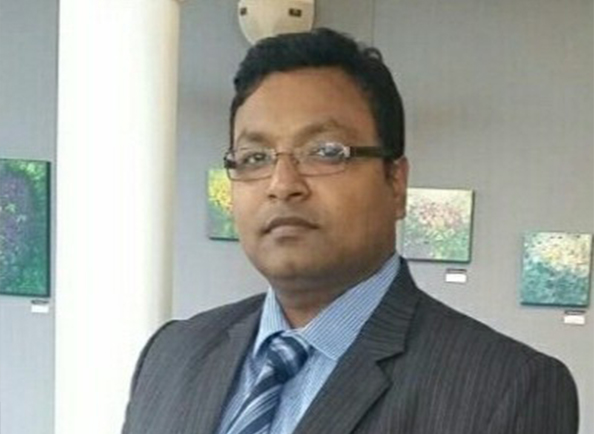 Kishore Mitra
Graduate in Business Administration
Industry insights
Skilled business leaders are among the most highly sought-after and well-paid professionals in workplaces across a range of sectors. With an MBA (Digital) from Monash, you open the door to significant opportunities in the management of people, projects and organisations. You will be able to apply your skills in industries such as: 
manufacturing

 

health care

 

social assistance

 

policy planning

 

business management

 

marketing

 

human resources.

 

4.1 stars out of 5
Business managers rate their job satisfaction as very high.

6.2% job growth is expected for business manager roles over the next five years.

$103,000 is the most common salary for a business manager in Australia.
Download Brochure
Fill in your details to download an interactive course brochure containing:
course information
career pathways
how online study works
course fees
how to apply
Monash Online is a partnership between Monash University and Online Education Services (OES). Learn more.